---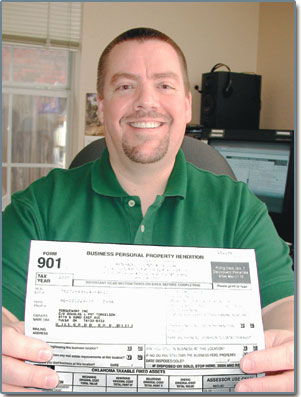 South Tulsan Doug Torkelson's new software program, Personal Property Pro, may have a lot of accountants and business owners breathing a sigh of relief.
NORA K. FROESCHLE / Tulsa World
Accountants embrace new tax software
By Nora K. Froeschle Assistant Editor - Tulsa World
2/16/2005

View in Print (PDF) Format

Local software developer Doug Torkelson has accountants in three states breathing a sigh of relief this tax season.
A program Torkelson created, under his company name Torqueware Inc., will address a cumbersome form well known to anyone in business: form 901; Business Personal Property Rendition, which is filed with the county in which the business is located.
If the company has multiple locations, each location must have a form 901 filed for its inventory.
Businesses, both large and small, are required by the state to submit the form, which is a declaration of all the company's taxable assets.
Assets include items such as computers, copiers, office furniture, machinery and tools.
Here's the kicker: it's most often filled out with pen and pencil, not keyboard and computer screen, by accountants and business tax filers.
"CPAs are doing it by hand," Torkelson said.
Torkelson's program, Personal Property Pro, includes a form he patterned after the state's official form 901, and his version has been approved for use in all 77 counties in Oklahoma.
Torkelson has also created programs for the equivalent forms required in Texas and Florida, he said.
The problem form 901 presents is mostly a distant memory in the computer age because most other state tax forms are included in any number of software programs.
But form 901 and its counterpart 901-P, for use by petroleum companies, has been included in very few, if any, software programs.
"He may be one of the only ones doing ad valorem reproduction software," said Ginger Hulsey, revenue administrator for the Oklahoma Tax Commission.
It is Hulsey's responsibility to review and approve any software that includes state tax forms.
Other than Personal Property Pro, which she reviewed and approved in April 2004, Hulsey knows of only one other company -- one in New York state -- with software that includes business personal property rendition forms.
The program took Torkelson about a year to write, working eight-hour days on it from his south Tulsa home office.
The software ranges from free to $750, depending on whether it is for a business or accounting firm, and on how many forms need to be filed.
Small businesses with 15 or fewer employees (correction; 10 or fewer assets) may download the form for free from the Torqueware Web site at www.personalpropertypro.com for this year's filing.
Several local firms have already purchased the software, Torkelson said.
"We've already used it quite a bit," said Glenn Eddleman, an accountant with Glenn Elliott and Associates, 5800 E. Skelly Drive. "It saves us a ton of time."
The firm handles about 70 form 901s annually and each of them took between 30 and 40 minutes to be filled out by hand, while with Torkelson's program, it has been reduced to 15-20 minutes.
"Next year's going to be a cakewalk," Eddleman said.
He expects next year to go even faster because once the bulk of information on a business is entered, it will not need to be changed the next year when only the additions and subtractions of assets will need to be entered.
"The first year, you'll save money, but once they have the general information in, then next year and beyond, if the client has no changes, it'll take 30 seconds to complete this form," Torkelson said.
---
TAX PROGRAM
What: Personal Property Pro from Torqueware Inc.
Web: www.personalpropertypro.com
For more: Call 252-1157
---
Correction by Doug Torkelson: The program is free to small businesses with 15 or less assets, not 15 or less employees.